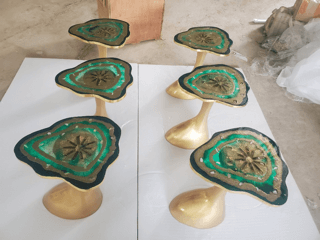 Decor: Workplace and Home
4 products
Our minds and what we think affects our overall well-being; WELL encourages beautiful designs and art to support creativity and elevate human health and comfort. 
Interior Décor At Work And At Home Affects Your Happiness
The psychology of connection between interior design and your emotions has always existed; items in our office or home significantly impact our mood. Neuroscience research has shown how the interior design and decor bring out either negative or positive emotions. When choosing decorative elements our goal should be to select items that we love since it will support wellbeing and happiness.
Studies have shown how plants can help improve memory and concentration because the presence of natural elements reduce stress. Textures and shapes of the furniture in your office or home produce improved mood or positive emotional responses. In the ancient practice of Feng Shui – the shapes and textures represent natural elements of earth, water, wood, metal and fire. The metal elements such as tables, wall hangings, stools, and miscellaneous metal décor promotes strength and independence. Wooden elements are linked to health and personal growth.
Use psychology to improve emotional impact of your living space such as persuasive design simulation of natural environments; this involves using elements of nature to create an atmosphere of wellness and relaxation. Fill your workplace and your home with objects that you absolutely love and you will always be in a good mood.